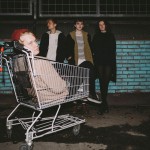 Luftslott Records are proud to present PAARKS.
Paarks established nearly a year ago and the band has been working hard since. Among others, played on Trästockfestivalen as well as a variety of local gigs around Umeå. After a membership change, began a small tour in November that took them to Finland and back. In February the band will release their first album , Stranger Shores, with Luftslott Records.
first up they will release the single "Fascists at the party! the 11th of December.