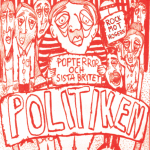 Har varit i kontakt med skivtryckeriet och DHL och "POLITIKEN" split 7″ med Popterror och Sista Brytet väntas komma på Torsdag 4/9.
Vilket är minst EN dag försent, eftersom releasefesten hålls i morgon.
Deppa inte, ni som kommer på releasepartyt samt ni som inte har möjlighet att komma.
Ni kan förbeställa skivan för endast 50sek ($7) så bjuder vi på frakten.
Detta grymma erbjudande gäller bara till den 5 September, så passa på.
Ni mailar bara namn och adress till info@luftslottrecords.com, så kommer skivan med en faktura.
Hoppas ni som ville köpa den i morgon har förståelse, vi kunde inget göra för att skynda på.
Ses på festen i morgon och lyssnar till musik, dricker, och har kul.
Have been in contact with the record pressing plant and DHL, and "POLITIKEN" the split 7 "with Popterror and Sista Brytet is expected with the post on Thursday, 4 September. Which is least a day late, because the release party will be held tomorrow.
Do not feel bad, you who are coming to the release party and to those are unable to come.
You can pre-order the disc for only 50sek ($ 7) and get free shipping.
This awesome offer is only available until 5 September, so take the opportunity.
You will email your name and your address to info@luftslottrecords.com, so will the vinyl arrive with an invoice.
Hope you guys who wanted to buy it tomorrow have understanding, we could not do anything to speed up.
See you at the party tomorrow and listening to music, drinking, and having fun.
https://www.facebook.com/events/350646625085891
//LUFTSLOTT RECORDS