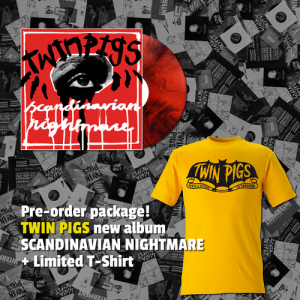 You can now pre-order the amazing album (how about a red and black marble vinyl) from our dearest pigs including a limited t-shirt (only 25 shirts)!
But i have some sad news from the pressning plant. The records will not be here for the release date 7th of September. As i can see we might have them here a week later. But i´ll keep you posted.
Do not miss their single LOLLIPOP that was released 24 of August. Stream it here LOLLIPOP
I also have some new distro records in the shop, look around and buy something. Support indie lables!